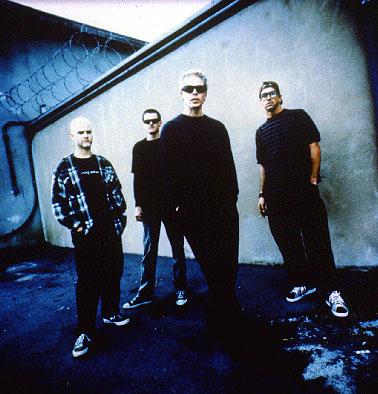 (click on album cover for lyrics)

The band from left to right:
Ron Welty-Drums
Greg Krisel-Bass
Bryan "Dexter" Holland-vocals and guitar
Kevin "Noodles" Wassermen-guitar

After Dexter and Greg failed to get into a social distortiongig,they bought instruments and learned to play together since neither of them knew how to.They played at Krisel's house upstairs since his mother didn't care.Next to join the band was a school janitor,Kevin "Noodles" Wasserman, who'd already graduated Pacifica High.He was the only member over 21 at the time and bought the beer.Next Ron Welty-drums- moved to Garden Grove for part of high school and that's where his sister introduced him to Bryan. Ron,then 16, begged Bryan to let him be the drummer for Manic Subsidal since their drummer had started medical school and was missing lots of gigs.Bryan finally gave in. In 1987, they paid to release their own 7-inch single.They couldn'tafford the additional quarter per copy it cost to paste the front sleves to the backs,so they bought a case of beer and some glue sticks and held a party for their friends.It took them two and a half years to get rid of the 1,000 copies it printed. Two years after being rejected so many times by several record lables,they finally scored a contract with Nemesis.They'd changed their band's name to the offspring and found producer Thom Wilson,who had produced albums by some of their favorite bands and they recorded another 7-inch single called "Baghdad" and they made an album "The Offspring."


In 1992 Epitaph released Ignition, 12 brief but energetic Offspring songs that summed up the previous decade of Orange County Punk.
In 1994 their breakthough single Come out and Play and top hit Self Esteem helped push thier third album, Smash to the best selling independent record of all time (9 million plus), and heavy MTV rotation. After the success of Smash, new fans discovered Ignition as it reappeared in stores. Another single from that album,other then Come out and Play, was "self esteem."
Due to the amount of overpriced, poor quality bootlegs, they rereleased their self titled The Offspring in 1995 with thier own label, Nitro. Nitro has released albums for several other bands, including The Vandals and Guttermouth.

In 1996, the Offspring signed with Columbia records after disputes with Epitaph. Their next album, Ixnay on the Hombre, was released in February 1997.Singles include: "All I want," "gone away," "I choose," and "The meaning of Life." Dexter and Jello Biafra stared their own benefit foundation, FSU this year.

1998 brought a new offspring album titled "Americana." With it's first single, "Pretty Fly(For a White Guy),"It's already gone platinum(or so I've heard)In my opinion it's a great album.


back to main page| Who is Dexter Holland?
Dexter pictures|thanks to dexter fans...
Offspring pictures|Dexter Fan Club
Who am I?! |stupid quotes and whatnot
My other page|My other other page