to the fans on my Dexter mailing list

Hey this is for all the people on the DexterHollandRox mailing list. You guys are great.you've all been super nice and i just wanna say thanks.Im gonna post some of the great things people have emailed me with.Thanks a bunch you guys,and to all the people who bothered to visit my website..last week i had 113 visitors and i think that's awesome!you guys all kick ass!

~*Jennie*~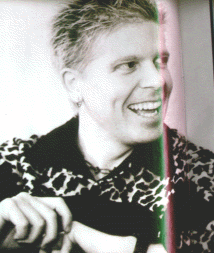 This is so cute!
FROM:carmen.tucic@ri.tel.hr
Hy! My name is Marin. I am 11 years old and i am writteing this to you from Croatia. You are my best bend. My favorites songs are Staring at the sun, Gone awey I choos... Will You come to Croatia? My E-mail is carmen.tucic@ri.tel.hr
Thank You!!!
FROM: psquier@sherbtel.net
Don't ever even listen to what people say to you about loveing dexter and having your web page. Dexter dose kick ass, and so is tha hottest man alive (ever)!! Im just glad you have your page so I can Find out even moer about the man of my (our) dreams.He is the greatest ever and I just wanted you to know That I don't think your weard crazy or whatever people tell you, I just think that you think the way any normal girl should about the hottest man alive, DEXTER HOLLAND
Thanks, JEN

back to main page| Who is Dexter Holland?
Dexter pictures|The Offspring
Offspring pictures|Dexter Fan Club
Who am I?! |stupid quotes and whatnot
My other page|My other other page